Top Stops in Key West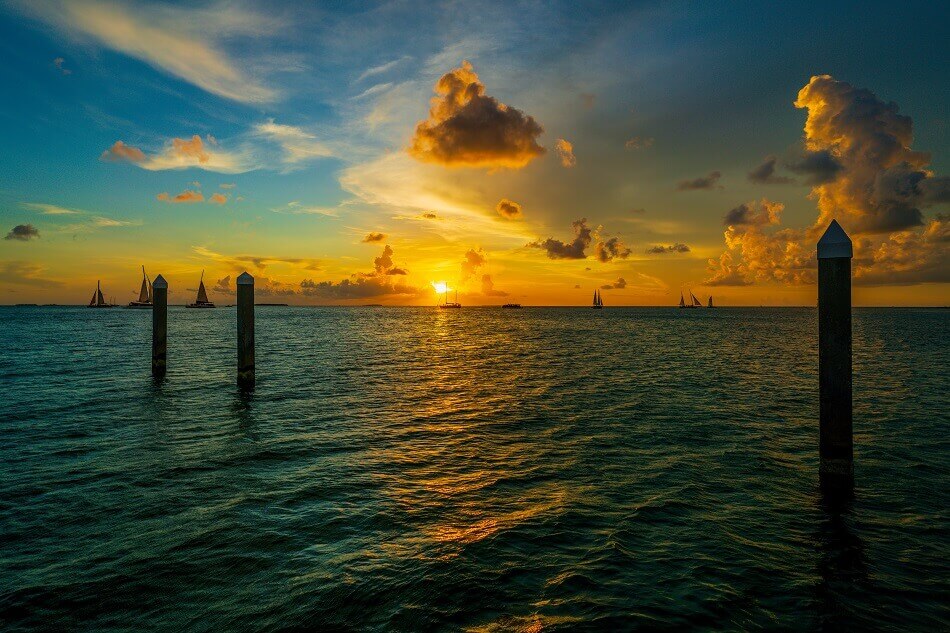 Even though Key West is a pretty small island, any time you visit a new vacation destination it can feel stressful. What if you miss the best parts? Fortunately, with this list, you don't have to worry about that. These are among the top destinations that you'll be glad you visited on your trip, whether you're here for just a few days or much longer.
List of Best Vacation Destinations in USA
Duval Street: The Center of Everything
Duval Street functions as perhaps the main street in Key West. It runs the length of the island and offers all of the shopping, dining, hotels, bars, jazz clubs, museums, and galleries you could ask for. You can walk, bike or even take public transportation from Mallory Square at one end to Southernmost Point at the other, and spend all day exploring the great places in between. Check out the Conch Train Tour near Mallory Square and the nightly Sunset Celebration that welcomes tourists and locals alike with live music, vendors, and more. And be sure to get your picture taken at the oversized buoy-style landmark at Southernmost Point. For more excitement, book a walking tour through the neighborhood, Everything from pub crawls to food tours and even ghost tours are available, depending on your interest.
Embrace Nature at The Key West Butterfly and Nature Conservatory
It's one thing to see beautiful butterflies in the wild and completely another to step fully into their world. But this is the most exciting way to learn more about them and their precious place in our ecosystem. At the Key West Butterfly and Nature Conservatory, you can walk through large butterfly habitats with dozens of kinds of butterflies flitting about. The conservatory is also home to tropical birds and lush exotic greenery. There are plenty of opportunities to learn more about the life of a butterfly, too.
Indulge in a Food Tour
The food is one of the best ways to truly experience a new place, and a food tour of Key West is no exception. What makes this city unique is that so many cultures have had the chance to mix it up here, including Caribbean, French, Southern American, Cuban, Vietnamese, and more. A food tour lets you explore all of these exciting flavors without having to decide which ones to try first. Examples of the great dishes you can sample include key lime pie, empanadas, conch fritters, and gelato. If you book your food tour early in your trip, you'll know which places you want to return to for full meals, like Eaton Street Seafood Market, which is legendary for its lobster roll, and Kermit's Key West Key Lime Shoppe, where key lime pies are scratch-made daily. Key West is one of the best vacation destinations in usa.
Visit Papa's House
Ernest Hemingway, known as Papa, had a home in Key West for several years, and if you've ever read the classics like The Old Man and The Sea or For Whom the Bell Tolls, you may feel an especially strong pull to visit this historic site. The property is open for tours and still holds many of the Hemingway family's heirlooms and furniture. You are also likely to spot one of the many cats that roam the property, which are direct descendants of Hemingway's 6-toed cats.
Go Fishing
Many of the visitors to Key West come expressly for the fishing. This includes heading out for grouper, yellowtail snapper, tarpon, amberjack, mahi mahi, and more. Even if you have never picked up a fishing pole, booking a charter with a company like All In Charters ensures you'll have a great time. All of the gear you could need is provided, and you also get pointers from skilled fishermen. You can typically book a half- or full-day excursion, and choose from among deep water, reef, wreck, or flats fishing. And if you make the catch of the day, it's easy to find a local restaurant to cook your catch for dinner, too.
Discover the Treasures of The Mel Fisher Maritime Museum
If you have ever considered how great it would be to unearth a buried treasure, a trip to the Mel Fisher Maritime Museum might be ideal for you. Explore all of the exciting ways in which lost treasures are salvaged from the bottom of the sea, and see for yourself the artifacts that have been pulled up and cleaned up. What's more, you can add onto your admission ticket and get an authentic behind-the-scenes tour of the museum and see the conservation lab up-close. Here, you'll get to see what goes into identifying artifacts and preparing them for exhibit.
To make the most of your trip to Key West, use this list of top destinations to build your itinerary. It's a well-rounded list to cover the interests of everyone in your group and provide just the right mix of relaxation and excitement, plus plenty of Instagram-worthy shots for a vacation to remember forever.