Step By Step Baingan Bharta Recipe (Punjabi Eggplant)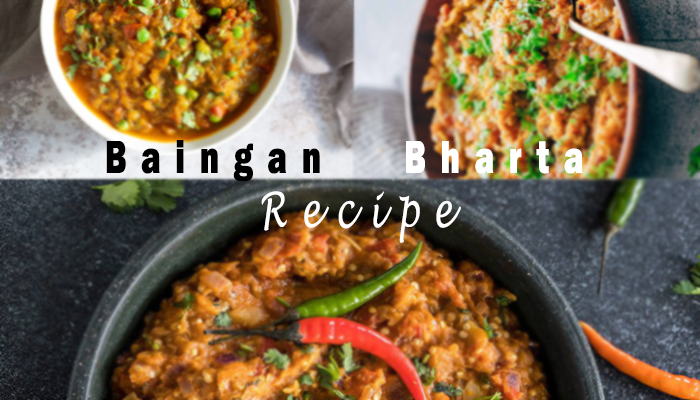 Baingan Bharta is a dish from Indian state Punjab. Baingan Bharta is simple and easy to prepare. It is fire roasted eggplant mash cooked with spices. There are different way of making this bharta, here I am sharing most common way of making bharta.
Some people roast the eggplant in microwave but if you want that smoky aroma flavor then roast it just on an open flame. Here, I am sharing recipe of Punjabi style Baingan Bharta in which flavor come from roasting eggplant well.
The smoky flavor makes its so flavorful and you love it even if you don't like eggplant. It can be serve with Indian bread, roti or paratha.
Ingredients For Baingan Bharta Recipe
1 large brinjal
3tbsp oil
1/2tsp cumin seeds
1/2tsp mustard seeds
1tsp ginger garlic paste
1finelly chopped green chili
1finelly chopped tomatoes
1finelly chopped medium onion
1tsp red chili powder
1tsp turmeric powder
1tsp coriander- cumin powder
1/2tsp sugar
Salt to taste
Green coriander leaves for garnishing
Method For Baingan Bharta
1. Take large brinjal and grease it with oil. Roast it on an open flame for 8-10 minutes until the brinjal's skin blistered completely and become soft. Prick it with knife and checked it cooked from inside.
2. Once it roasted, submerge it in a water and peel the skin. Cut of the stem and smash it.
3. Heat the oil in a pan and add cumin seeds and mustard seeds, wait till crackled.
4. Add ginger garlic paste and saute till it turns golden brown.
5. Add chopped onion and saute until it become soft.
6. Add tomatoes, red chili powder, turmeric powder, coriander-cumin powder, salt and mix well. Cook until the tomatoes become soft.
7. Add smashed brinjal and mix it well.
8. Add sugar and cook for 2-3 minute.
9. Garnish it with green coriander leaves and serve with Indian bread.
Hope you like my Baingan Bharta Recipe. If you have some more twist in this recipe than comment below. 😋😋😋😋