Are you looking for Yummy Indian Dal Tadka Recipe?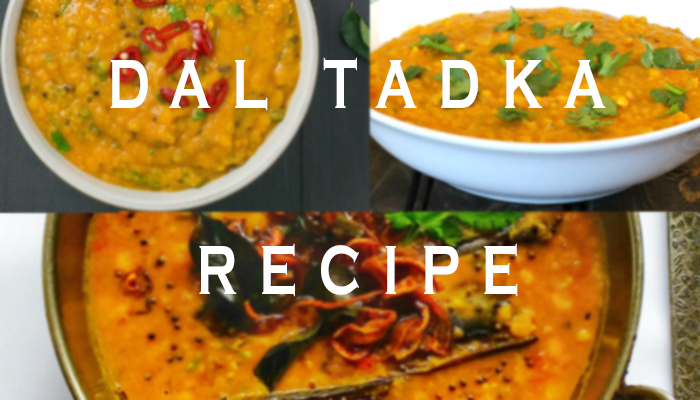 Dal Tadka is cooked lentils which are tempered with oil or ghee, fried spices and herbs. Tadka is a technique in which spices and herbs are fried in oil or ghee, so that the spices release essential oils which add aroma, flavor and taste in a dish in which tadka is added.
In India we temper everything like vegetable dishes, dal, chutneys. In India every state has its own recipe of making dal. This dal tadka recipe is north indian style, you can use any yellowish split lentils. Making dal tadka is very easy first made a dal and then temper it just before serving.
It can be served with jeera rice or steamed rice. It can be also served with roties.
Ingredients for Dal Tadka Recipe
tbsp = Table Spoon
tsp = Tea Spoon
1 cup toor dal
1.5 tsp salt
1/2 tsp turmeric powder
3.5 cups water
1 inch ginger
4 garlic cloves
1 green chili
1.5 tbsp ghee
1 tbsp crushed coriander seeds
1 tsp cumin seeds
2 cloves medium
2 copped medium tomatoes
1 chopped medium onion
1/2 tsp coriander powder
1/4 Kashmiri red chili powder
1/4 tsp garam masala
1/8 tsp red chili powder
2 tbsp chopped cilantro
1 tsp Kashmiri methi
For Tadka
2 tsp ghee
2 chopped garlic cloves
1/4 tsp hing
2 dried red chilies
1/4 Kashmiri red chili powder
Metled ghee, tiece of charcoal for dhungar method
Method for Dal Tadka Recipe
1. Add toor dal along with turmeric, 1 tsp salt and 3 cups water to a pressure cooker
2. On high heat pressure cook it for four whistle, then lower the heat and cook for 3-4 minutes
3. Let the pressure release it self.
4. Mean while crush ginger, garlic and green chili
5. Then heat ghee in pan on medium heat. Add cumin seeds, cloves and crushed coriander seeds saute until fragrant.
6. Then after add onion and cook till it become soft and golden brown.
7. Add crushed ginger-garlic-green chili. Cook for 1-2 minute
8. Then add chopped tomatoes and salt and mix well.
9. Cover the pan and cook for 7-8 minutes until tomatoes become soft.
10. Add garam masala coriander powder, Kashmiri red chili powder, Red chili powder, Kasuri methi and cilantro
11. Stir the spices for few seconds
12. Add the boiled dal to the pan.
13. You can also add the water if Dal look very thick. Let the Dal simmer for 3-4 minutes.
Tadka Method
For tadka heat 2 tsp ghee in a small pan. Add 2 chopped garlic cloves, hing and dried red chilies. Cook until the garlic turns golden brown. Add Kashmiri red chili powder and remove pan from heat. Pour tadka over the dal and mix it well.
Dhungar Method :
Place a steel bowl on top of a trivet placed in the dal. Then take a piece of charcoal and heat until its become red hot. Then put a hot charcoal in the steel bowl on top of the trivet. Pour a ghee (1 tsp) on charcoal. Immediately covered the pan with lid. Let remain for 10-15 minutes and after open lid and remove the bowl. The dal will get smokier, the longer you keep the lid closed.
Garnish with chopped coriander leaves and serve it with rice. 😋
If you are looking for more Indian Dishes then you can see our other posts. 😋😋