How To Make Delicious Pav Bhaji Step By Step?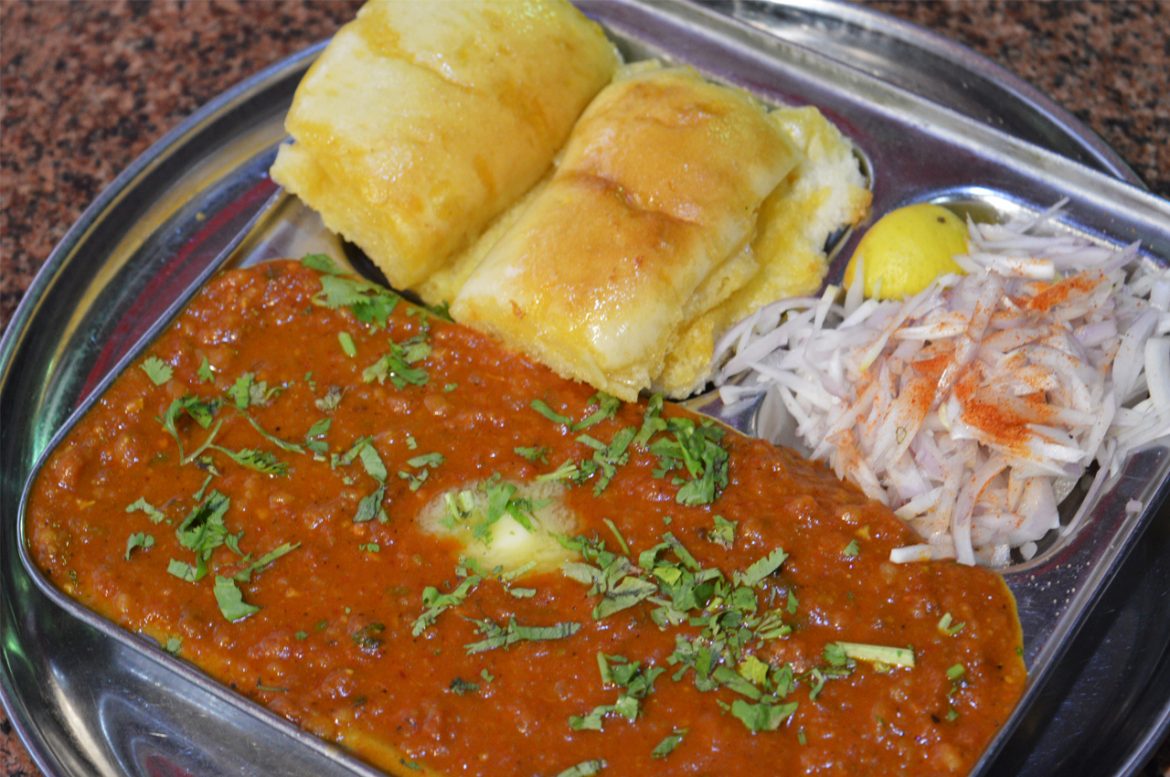 Pav bhaji is an Indian fast food dish which consisting thick vegetable curry and served with a bred roll (pav). It is particularly from Mumbai and popular all over India. Pav means bread rolls and bhaji is one Marathi word, which is used for vegetable based dish. In this dish bhaji and pav served together so it is called pav bhaji.
A special blends of different spices is used to make pav bhaji, which is called 'pav bhaji masala'. It is easily available in indian stores. There are so many variations in pav bhaji in which mostly vegetable used are same but some more ingredients or spices blends are added. It is served with pav and for garnishing you can use fresh green coriander leaves, chopped onion and lemon slice.
Ingredients for Pav Bhaji Recipe
tbsp = Table Spoon
tsp = Tea Spoon
2tbsp butter + 2tbsp vegetable oil
2 finally chopped tomatoes
1 finally chopped onion
1/4cup peas (mutter)
1/2cup finally chopped capsicum
3/4cup chopped cauliflower
2chopped medium size potato
Salt to taste
1/4tsp turmeric powder
2tsp kasuri methi
1 1/2tsp pav bhaji masala
1 1/2tsp Kashmiri red chili powder
1tsp ginger garlic paste
1tsp lemon juice
2tbsp finally chopped coriander leaves
Water to adjust consistency
To toast Pav
Method For Pav Bhaji Recipe
1. Take a pressure cooker and add into chopped potato, chopped cauliflower and peas. Add 1\2cup water and salt to taste. Close its lid and pressure cook it on medium flame for 2 whistle. Keep it aside and let release the pressure naturally. It will take 5-6 minute.
2. Now open the lid of cooker and mash all the boiled vegetable.
3. Heat 2tbsp oil and 2tbsp butter together in pan on medium flame. Add ginger garlic paste saute until it turns golden brown.
4. Add chopped onion and chopped capsicum, chopped tomato and salt. Saute until it becomes soft.
5. Then add 1 1/2tsp Kashmiri red chili powder, 1\4 turmeric powder,1 1\2 tsp pav bhaji masala and 2tsp kasuri methi. Stir and cook for 2 minutes.
6. Now add 3\4 cup water, mix well and cook for 2-3 minutes.
7. Now add smashed vegetable and add 1tsp lemon juice. Mix it well and add some water if needed for consistency. Cook for 4-5 minutes.
8. Now turn off the flame and add 2tbsp chopped coriander leaves.
9. Cut the buns or pav horizontally into two parts. Heat tava on medium flam add a tbsp of butter and place pav on it. Roast both side of pav till brown spot appear on it. Then transfer to the plate. Shallow fry each pav.
Serve pav bhaji with a piece of butter, chopped onion and slice of lemon. Check out more food recipes here.
In this article, I have shared a street style Pav Bhaji recipe, I hope you like that. If you have your own twist in recipe than comment below and share with me. 🙂