5 Most Comfortable Hoodies For Guys To Wear All Day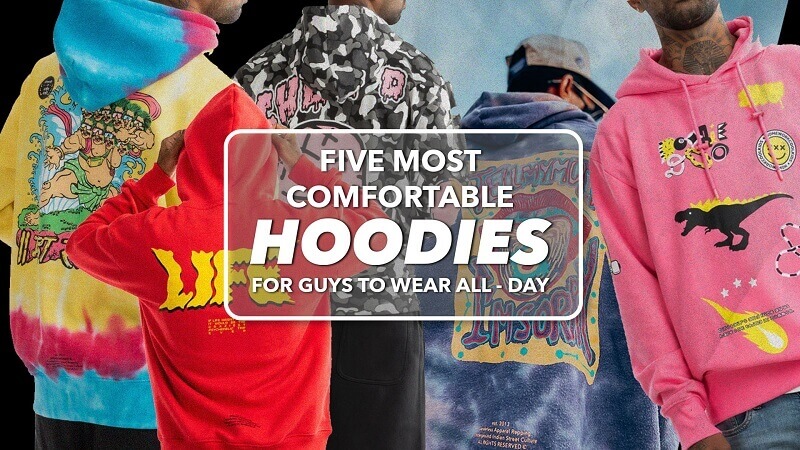 A superbly comfortable hoodie is a prerequisite for every man's closet. Hoodies are extremely fashionable and make you look cooler. And yes, they will also protect you from the coldest of winters. We know how difficult it can be to find the perfect hoodie that is soft, comfortable, and fashionable at the same time. Considering these parameters, we have shortlisted Urban Monkey's best hoodies. Our hoodies are one of a kind and will definitely win your hearts. The hoodies for men are crafted with love, using breathable cotton blended with quirky styles to oomph up your outfit. You can also buy these hoodies for women, as they are unisex.
What's unique about Urban Company is its exemplary street style designs and patterns. If you have a knack for streetwear and urban apparel, then you are at the right place. You can buy hoodies online from the Urban Monkey website and get awesomeness delivered to your doorstep within a few days.
We have narrowed down your search for the perfect hoodie from Urban Monkey.
Here are the top 5 most comfortable hoodies for men and women:
everyday i'm snugglin' – Urban Monkey x Studio Sorted
Straight from their nostalgia collection, here's an absolute winner with top-notch comfort and the quirkiest illustrations. This genderless apparel is curated for everyone who loves hoodies. This special hoodie is hand-dyed with a blue and white tie-dye design. It has a pair of front pockets and an extremely relaxed fit. Made with cotton, it will be the cosiest hoodie you have ever worn. The hoodie has a minimal design in front and animated illustrations at the back. The graphics add a pop of colour to the hoodie, which makes it even more desirable.
Tswag Tsunami – Urban Monkey x Okami
This vibrant hoodie will add a welcome burst of colour to your life. The illustrations on this one depict the Indian street culture. This hoodie stands out from the rest for its distinct designs, which are a blend of Japanese and Indian art. This hoodie is hand-dyed in a special tie-dye combination of yellow, pink and blue.
hoodiedoobiedoo – Urban Monkey x homework
Taking inspiration from the randomness around us, this hoodie is covered with whimsical patterns and thought-provoking illustrations. The hoodie is a little different from other hoodies as it has ribbed cuffs, long sleeves and a drawstring hoodie. The illustration is humorous, eye-catching, and is a conversation starter for sure. A much-needed ice-breaker at an awkward party!
chew'd – Urban Monkey x homework
Chew'd is another unique hoodie from the collaboration with homework. It has a black and white camouflage design, illustrating an 80s Memphis Style. The material is extremely soft and fits like a hug. It has a minimalist pattern if you look at it from the front but is covered with animated pink designs at the back.
LIFE – Urban Monkey
The Life hoodie by Urban Monkey is an attractive shade of red with a minimal yet intriguing design. This printed and knit hoodie has been curated especially for the liberal, forward-thinkers. It has a front pocket in the form of a pouch, ribbed cuffs, and illustrations printed on both sides.