Lakme Eyeconic Liner Pens Review – Fine Tip and Block Tip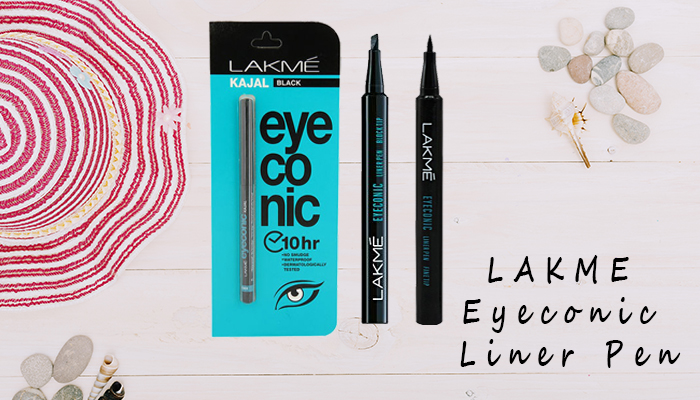 A good eyeliner is very important for the perfect eye makeup. With Lakme Eyeconic Liner Pen you can get precision lined eyes and intense black finish. With this pen you can draw long lasting, waterproof strokes that stays up to 10 hours.
It comes in two nibs :
(1) Lakme Eyeconic Liner Fine tip
(2) Lakme Eyeconic Liner Block tip
Price – INR 475 each (7$ Approx).
Packaging
Lakme Eyeconic Liner Pen comes in pen shaped packaging and black color, like any other pen eyeliners. The liners are lightweight, handy and easy to use. For making thin lines fine tip is great while making winged eye you can use block tip.
Texture
It is very easy to use as it is very thin in comparison to other pen eyeliner. It gives transfer proof silky matte line. It has velvet matte layer, do not drying and feeling tight.
Shade
It available in only one shade pigmented black.
My Experience with Lakme Eyeconic Liner Pen
The liner dries out very fast. It is smudge proof, but isn't waterproof. It gives a matte velvety finish after drying out. It does not fade away up to 5 to 6 hours but yet it is not completely waterproof. Though water resistance does beat sweating. Fine tip is little bit stiff, might hold your lid tight before using it. While block tip is easy to use.
Overall, happy with its tip as it is not getting soft even after multiple times. Read more about eyeliner hacks in this post.
Pros
Transfer – proof formula
Easily available
Unique tips for precise application
Great Pigmentation
Good staying power
Dries out quickly
Travel friendly
Cons
Not completely water-proof
Not totally smudge proof
The tip is stiff
Do I recommend?
Yes off course, because overall Lakme Eyeconic Liner Pen is easy to use and has great pigmentation which gives you intense black line. It is perfect for matte finish. If you don't mind its few cons than yup, go for it. Comment below which nib you liked to use for your beautiful eyeliner look. 💋💋