Stylish Ways To Wear Kurta This Festive Season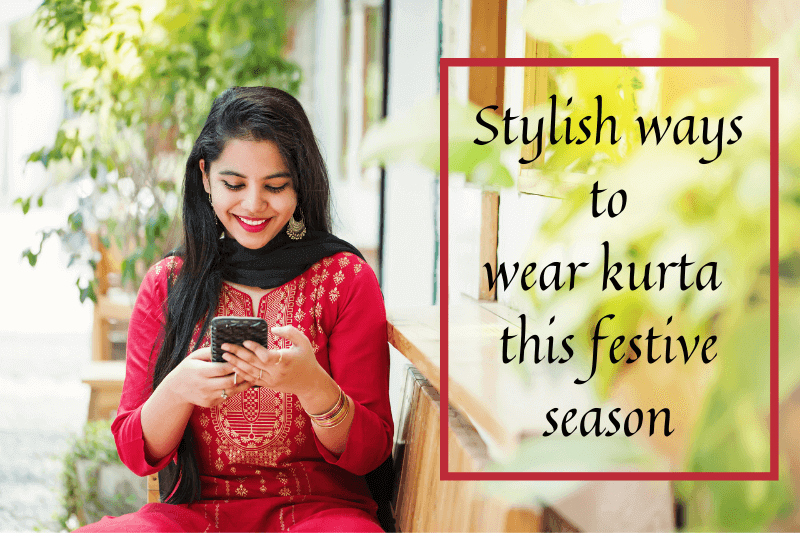 You and Enger the monsoons get to witness a lot of holidays. The main reason for these off days from work is the back-to-back occurring festivals during these wet months.
And we assume that you are pretty busy during these holidays. (For you to attend the festive gatherings with your friends, family, and relatives!) So, here comes the vital question – what do you wear during these festive gatherings?
If we are not wrong, you are donning the women kurtas a lot as they are your go-to fashion attires for such traditional events.
However, if you need some quick tips to ace these kurtas in an excellent way in all festive functions, then we have some cool recommendations for you below:
Ferozi blue kurta with white pants – The light, subtle shade of ferozi blue matches the greeting blue sky this season well. You can choose pure cotton women kurtas and pick one in this smart shade. (If it has a light Bandhani or mirror work done over it, it looks better.) You'll require loose-fitted pure white cotton pants with the kurta and enjoy a stylish and confident look in the next festive gathering you attend.
Printed kurtas with palazzos – If you've seen the fashion sites selling women kurtas, you'll go aww over their printed range of attires. Yes, these printed kurtas come in different designs and patterns like geometrical prints, striped, and many more. The class of such kurtas enhances the moment you pair them with a contrasting shade of palazzos. (Style it with long earrings to complete the look and look no more than a celebrity during those festivities.
Straight kurtas with straight pants – Don't like flair and detailed elegance? No issues! You can still try the straight women kurtas that are so very comfortable and stylish in their worn ways. You can pick them in shades of grey, green, or white and pair them with lovely matching or contrasting straight pants! We believe that if you wear a dozen bangles on each hand and some delicate jewellery, you're sure to attract a lot of eyeballs slaying in this kurta style during the festivals.
Chanderi silk kurtas with leggings – For once, try searching for the Chanderi Silk women kurtas on your favourite fashion site. You'll get them in numerous shades and prints. These look sophisticated and celebrated in their solid forms, but even if you go for embroidered ones, you'll never be disappointed with them. Wear contrasting shaded leggings over them for a more stylish appearance and see the magic. You'll grasp everyone's attention if you carry a chiffon or net dupatta with it and wear lovely, light make-up.
High-neck kurtas with denim – If you're looking for a stylish way to stylish your women's kurtas, let us suggest you go for the high-neck or collared kurtas. These give you a more formal look while still maintaining the traditional style of their appearance. When you wear these kurtas with denim, add a pair of sketchers and go for funky-looking oxidized jewellery with it, we bet you'll be the talk of the following festive event you attend.
You can also take some inspiration from top Indian fashion bloggers and amp up your look.