Biotique Bio Dandelion Ageless Lightening Serum 40ml Review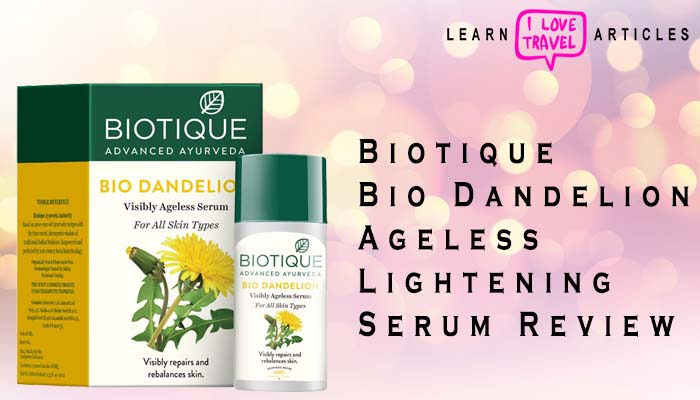 Now a days serums are very important for different skin treatment. There are so many serums available for various types of skin problems. Anyway, let's come to the point, back to some month I brought Biotique Bio Dandelion Ageless Lightening Serum 40ml. I am using it from last 9 month and now it become my most favorite beauty product. In this article I am sharing my experience with by reviewing it.
What Biotique claims?
This lightening serum is the rare combination of pure dandelion, rich in Vitamin E and minerals and blended with nutmeg oil. Used regularly, it helps to brighten your skin, fade dark spot and ease away wrinkles for a flawless complexion.
Benefit of Biotique Bio Dandelion Ageless Lightening Serum
This serum has ingredients like Dandelion, Bihidana and Jaiphal, which are very beneficial to our skin.
Dandelion
Dandelion is a herbaceous and anti-microbial plant which nourish, clarify and rejuvenate our skin. It also helps in lighten dark spot and brighten skin tone. Dandelion proves to be helpful in heal acne, eczema and psoriasis.
Bihidana
Bihidana has high level of antioxidant and vitamins found in quince are very beneficial, its keep our skin healthy and young. It's antioxidants that reducing the appearance of wrinkle and blemishes. It also helps to defend your skin against UV rays.



Jaiphal
Jaiphal has simulating properties will wake up dead skin cells and reducing fine line. Jaiphal also help to heal scares caused by everything from sun to acne.
Packaging
It comes in a regular Biotique packaging, in white translucent bottle with green cap. The bottle is very small containing 40ml product. Some may not like its packaging as it has not any pump, instead this serum has a small opening.
Ingredients
Bihidana Seeds
Halon Seeds
Jaiphal Oil
Badam Oil
Surajmukhi oil
Khamir Powder
Doodhal (Dandelion root)
Bees Wax
Groundnut Oil
Purified water
My Experience with Biotique Bio Dandelion Ageless Lightening Serum
I love natural product and Biotique Bio Dandelion Ageless Lightening Serum is full of natural ingredients which has so many benefits. So I was very excited to try that. It works like a magic for my skin.
I have some dark spot on my skin which visibly reducing after using it. It instantly calm dawn my skin. It has evened out my skin tone without causing breakouts. I am using it just only bat night though with regular use my skin become glowing and healthy looking.
It has lovely refreshing fragrance. I have not much fine-lines on my face, so can't say anything about its anti-aging effect. But for its skin benefit I love to use it.
Texture
Biotique Bio Dandelion Ageless Lightening Serum is water based and has watery-gel like constancy. It is neither thick nor runny and instantly absorbs into skin.
Pros
Non sticky.
Doesn't cause breakouts.
Light to wear.
Organically pure.
Preservative free.
Instantly absorb into skin.
No animal testing.
Reducing dark spot and blemishes.
Give healthy glow to skin.
Cons
I doesn't find any cons without its packaging. It has pump less packaging that is the only con I found.
Do I Recommend?
Absolutely big yes. Though it is anti-aging serum, it can be used by any age group with any skin type. With regular use you will definitely get healthy skin. Price is also very good, not so expensive.
Though quantity is not much, one bottle may last up to three months. So, no concern about amount. So, yup ladies just try it. I am also going to repurchase it.
Price – 3.24$ for 40ml.
I hope you like the review on Biotique Bio Dandelion Ageless Lightening Serum, till next one stay busy with your beauty stuff.